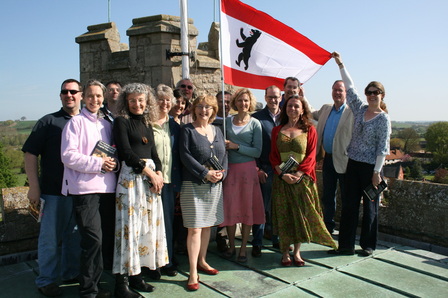 The Witchert Chorale was founded in 2004 by a group of friends from the local area who wanted to entertain and raise money for charitable causes. Since then, we have put on concerts every year in Haddenham and surrounding villages, and also further afield at venues in London, Margam Abbey (South Wales), Bledington (Gloucestershire), Waltham St Lawrence in (Berkshire) – and Berlin.
We support community events such as the Christmas Tree Festival in St Mary's Church Haddenham and our carol singing in local pubs always draws an enthusiastic audience. And for more than ten years, we have welcomed May morning by singing madrigals atop the church towers in Long Crendon and Cuddington, followed by breakfast and hot drinks, and more singing to and with the crowds assembled on the ground below.
Our concerts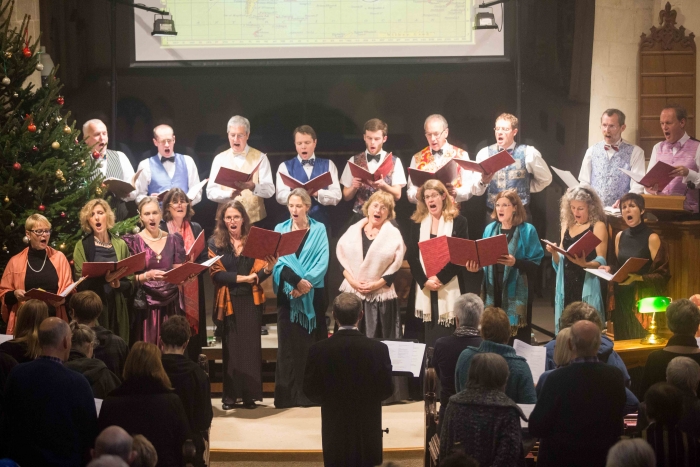 Our aim is to entertain our audience with a wide range of music from across the centuries, usually around a chosen theme. Programmes have included music from the 12th to 21st centuries and feature a variety of musical styles such as polyphony, romantic and classical, baroque cantatas and arrangements of jazz, blues, folk songs and barbershop.
We often include contributions from local performers and groups, such as Trinity Camerata and Wendlebury Winds.
With such an eclectic mix of music, our concert programmes offer something for everyone, and as an added challenge, we try to match our outfit to the concert theme each time – which involves a fair bit of anxiety and trawling of the local charity shops three times a year!
Our charitable causes
In order to maximise the amount donated from ticket sales to our chosen causes, we seek to cover all choir running costs from our own coffers. We have raised money for many international, national and local causes, from church maintenance to major disasters. Thanks to the loyal and generous support of our audiences, we are delighted that so far the total donated to charity is just over £50,000.
The Berlin Connection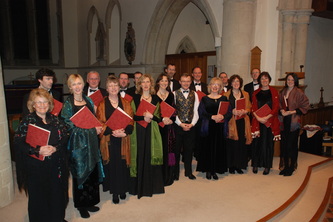 In recent years, we have made friends with a choir from the centre of Berlin, the Golgatha Kantorei, and this has become an important part of our choral lives.
It started in May 2012 when they travelled here to share in the weekend-long traditional Mayday festivities in Cuddington, Haddenham and Long Crendon. We performed a joint concert in St Mary's Haddenham on the theme of "European Harmony" and on May Monday morning, our new friends joined us in madrigals and German song from the towers of Cuddington and Long Crendon.
We made a return trip in the summer of 2013, where we were privileged to receive enormous warmth and hospitality and where we sang a joint concert in the Golgatha Church in what was once central East Berlin. On our return we performed the concert again for our local audience, "From Prussia with Love".
The Golgatha Kantorei – together with supporting friends from Leipzig – returned for a second visit in March 2015 for a weekend of torrential rain but more great warmth. We rejoiced together in a concert entitled "Hosanna!" in Cuddington.
In July 2017, we travelled again to Berlin, where we sang in the historical Zionskirche, where Bonhoeffer worked and where the East German opposition met. And they are due to come back and visit us again in 2019.
We feel privileged to have met with such warmth and hospitality and are very proud of our international friendship.