By Margaret Watkins – 8th December 2014
After ten years with the Witchert Chorale, founder member Alison Court has taken her last bow as chair of the successful Haddenham chorale group. This talented group of singers started with just 12 enthusiasts getting together to sing under the guidance of Musical Director David Quinn.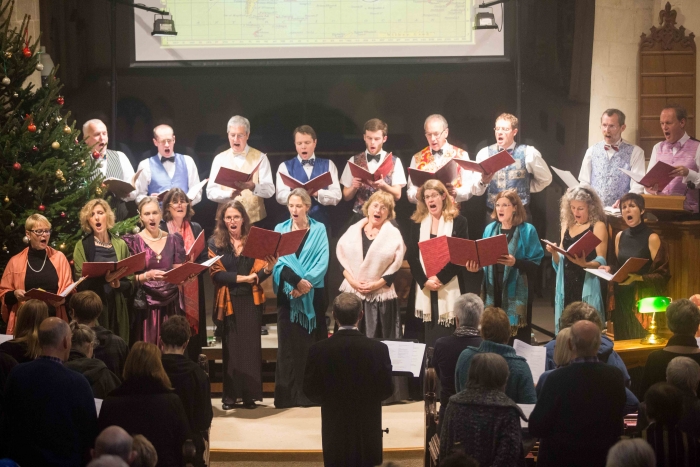 Having now grown considerably in numbers, they gave a delightful concert 'Around the World in Eighty Days' on Saturday 6th December in St Mary's Church, Haddenham to celebrate ten years of singing together.
The Witchert Chorale has gone from strength to strength in this time, raising approximately £30,000 for a variety of charities. The concert on Saturday evening, supported by Haddenham Village Society, was a sell out and the money raised will be divided between The Friends of St Mary's Church and the Village Society itself.
Saturday night's programme, as the name suggests, included songs — and a stylish dance — from around the world written by composers from Purcell to Puccini. Ed Cairns, a well-known village actor who was last seen in in the World War I play recently presented in the church, wrote a witty script based on Jules Verne's account of Phileas Fogg's travels around the world in 80 days. The musical journey linked the songs into a funny and endearing story of a man battling against time and tide. Ed played the part of Phileas Fogg with great panache and enthusiasm and was ably supported by Sarah Chapman as narrator and Fogg's French servant Passepartout, with some amusing foreign accents on the way!
The Witchert Chorale, masterminded by Alison Court, has played to a variety of audiences at home and abroad in the last ten years. Its venues have been just as varied, from the tops of both Cuddington and Long Crendon churches to St Clement Dane's Church in Central London and in Berlin. The singers are looking forward to engagements at the Haddenham Winterfest, carol singing in the village and, in 2015, visits to Waltham St Lawrence and to the Cotswold village of Bledington. In March they will be welcoming their German friends from Berlin, whose choir has a warm exchange relationship with the Chorale.
The singers have built up a loyal audience from Haddenham and further afield since that small group of like-minded people got together a decade ago. Long may they continue to delight with their varied, talented and wonderful singing.