Reviewed on haddenham.net
Over its fifteen-year history, the Witchert Chorale and its musical director David Quinn have always provided interesting and original themes and narratives for its concerts, and this latest offering was no exception.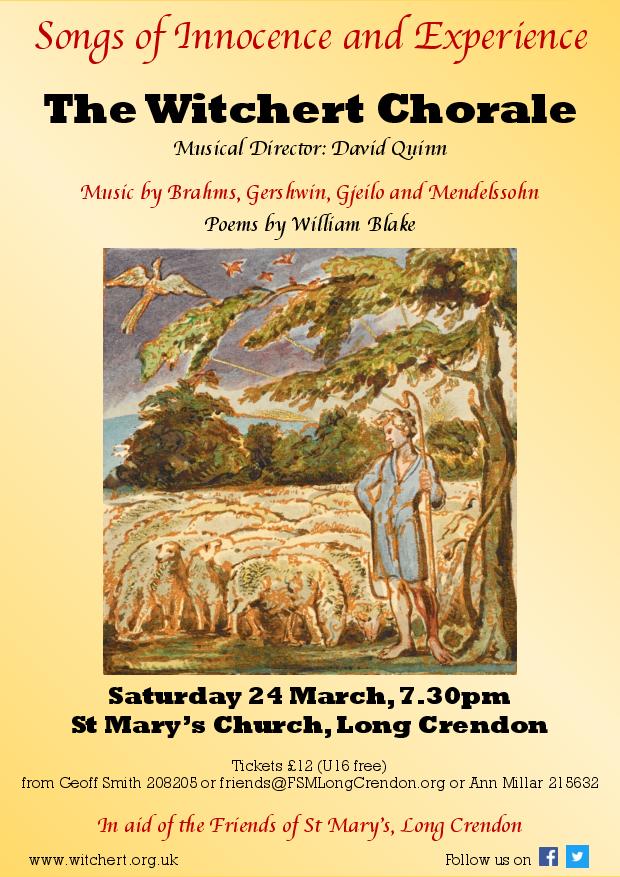 Selections from Blake's two volumes of poems from the 1790s, which range from pointed social
commentary to the mystical and religious, were beautifully read by Ed Cairns, and provided a
framework for a selection of music hugely varied in style and era: from a 16th century Mass by
William Byrd to a contemporary setting of The Tiger by Italian composer Mattia Culmone. Each
poem was cleverly matched with one or more complimentary pieces, in some cases settings of
Blake's text.
The first part of the concert had a quiet, almost ethereal atmosphere: three movements from the
1592 Byrd 'Mass for Four Voices' – the earliest and cleanest of his three settings – along with
Tavener's 'The Lamb' and the 'Divine Image' by Gibbons. This section was followed by poems 'The Chimney Sweeper' in its Innocence and Experience forms, and the 'Little Girl' – Lost and Found – withmusic from Mendelssohn's Elijah and Brahms lieder as commentary.
The choir's accuracy and tonal blend in performing this quite difficult repertoire were splendid
throughout, and these qualities were maintained in the second half, in which poems 'To Terzah' and 'The Lily', were accompanied by strong contrasts – from the dynamic sound-painting of bells in Senfl's 'Das Gelaut zu Speyer' from around 1500, to the nostalgic Sullivan 'The Long Day Closes' and atmospheric 'Northern Lights' of Ola Gjeilo: here composing in what he considered his native Norwegian style.
In the final section, a progressively lighter style to the music allowed the choir to relax and enjoy
delivering twentieth century favourites including Porter's 'Miss Otis Regrets', Gershwin's 'Fascinating Rhythm' and finishing with Youmans' 'Tea for Two'.
Overall this was a real treat for both the mind and the senses, and with a healthy audience turnout should build further on Witchert's admirable record of over £40,000 raised for good causes: this time in aid of the Friends of St Mary's. Congratulations to all involved.