It is with an awful lot of sadness that the Witchert Chorale is saying goodbye tonight to its longest standing member Alison Court and her husband Ed Cairns. Alison founded the choir with David Quinn in 2004. Jenny Hardy recalls how Alison along with Sally McCloy knocked on her door one day and asked if she would like to join a new choir! And thus Alison pulled together 12 local singers and a choir was formed. Its first engagement was to celebrate the reopening of the Methodist church, just opposite her house.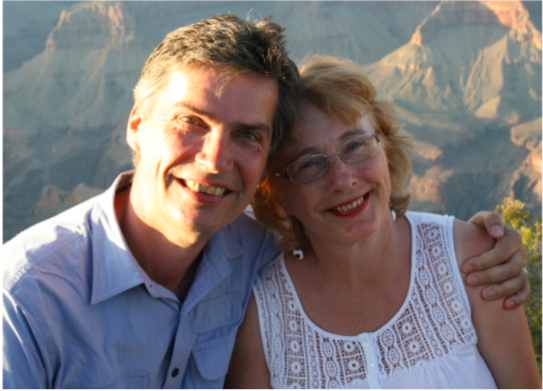 From then on the choir grew and began to perform in and around Haddenham on a regular basis. The founding principles of the choir have not changed in the 14 years it has been singing; to raise as much money as possible for charities and good causes whilst providing audiences with high quality musical entertainment.
Of course, all choir members should be enjoying themselves along the way! Alison has been at the forefront of all this for the vast majority of these years and it is largely due to her endless energy and contagious enthusiasm that the choir has kept moving onward and upward, attracting new members and taking on new challenges.
Ed too has not just been a supportive husband, but a frequent reader at the concerts. Many audiences have enjoyed his performances of Shakespeare, Blake and many other poets. He has employed his wit and creativity to write a total of three scripts for the choir, which have produced the most entertaining and memorable of evenings. On the first occasion we were then treated to a ride on the Orient Express. To celebrate the 10th anniversary of the choir we were Around the World in 80 Minutes, and finally tonight we will hear all about When Handel Came to Haddenham…
Not only the chair of Witchert, Alison has been busy with many things in the village. She was the driving power behind Homemade in Haddenham, has furnished many people with a beautiful bag or cushion and has been seen for many years walking her beloved Rusty. Not to mention being the perfect hostess! Her cheerfulness, friendliness and willingness to get stuck into anything and everything have made her a very well- known and well-loved member of our community.
If all goes to plan, when you read this Alison and Ed will have already moved to their new home in Norwich. Thankfully they have seen fit to return tonight to enjoy one more evening with us. We hope that they will have much joy building their new lives in Norfolk and no doubt being welcomed as a great addition to the community there.
Thank you Alison for all you have done for us! We will miss you.
Ann Millar (with thanks to Jenny Hardy)