By Anthony Windsor – Saturday 30th March 2019
The Spring concert by the Witchert Chorale took place on 30th March in St Nicholas' Church, Cuddington. A full house heard an eclectic mix of music celebrating the varied patronages of St Nicholas which include sailors, brewers, archers, unmarried mothers and students.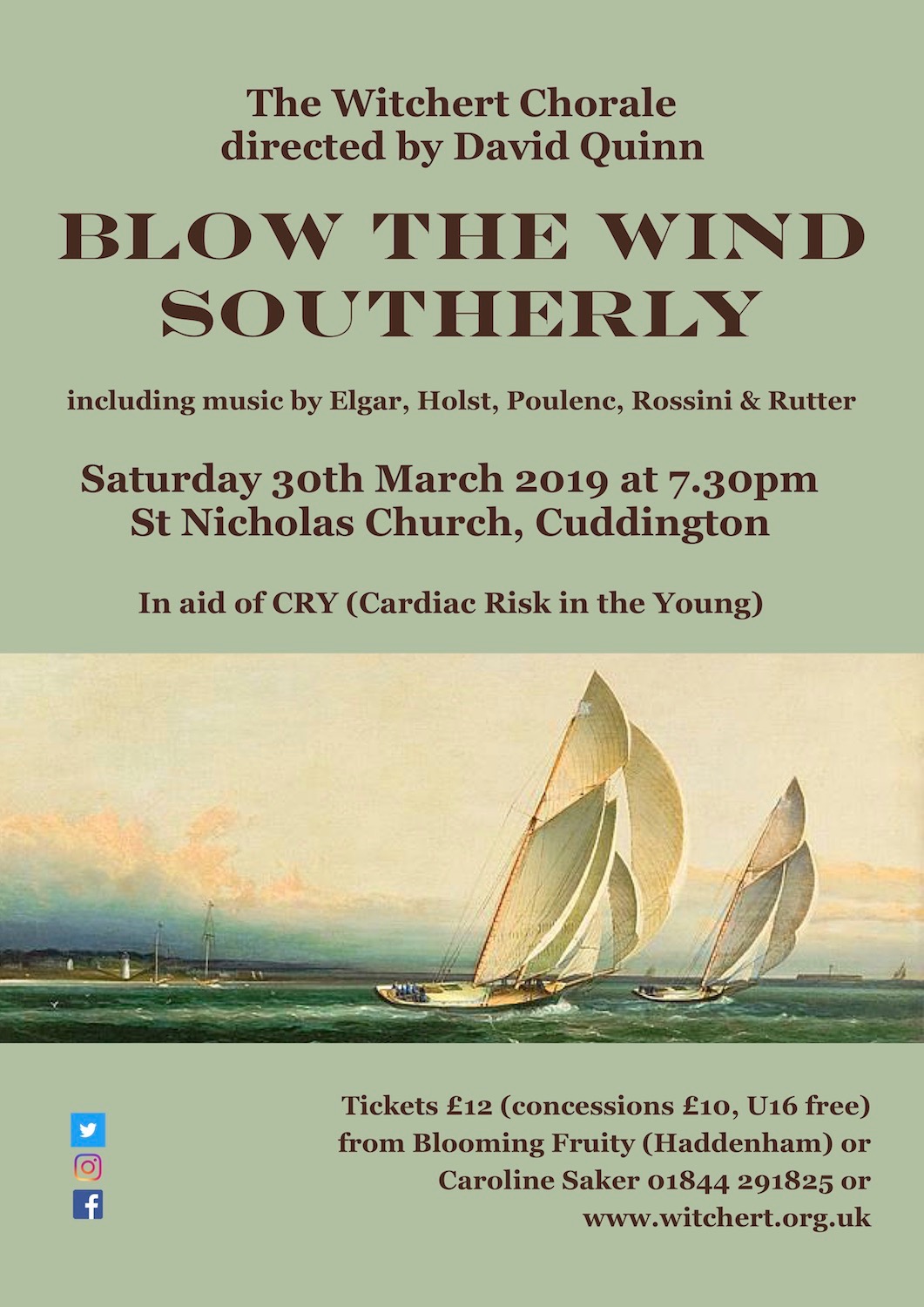 The evening got off to a rousing start with an unusual setting of the March of the Swiss Soldiers from the opera William Tell by Rossini. Sailors were represented by a beautiful rendition of Tennyson's Crossing the Bar by Hubert Parry and by a folk song of Swansea Town by Holst. Despite the evening being supposed to be the first after our departure from the EU we then moved to some French folk songs dealing with the courting of young women written after WW2 by Poulenc. The first half finished with an invitation to drink wine and eat refreshments as we followed the choir to the tables laden with delicious snacks.
We returned to our seats as students to hear the familiar words and music of Gaudeamus igitur. There followed a most interesting early seventeenth century madrigal in six parts about a world trip, after which the ladies of the choir took a rest and listened to the male voices who sang a selection of sea shanties. The ladies returning provided the listener with two children's rhymes set by John Rutter and a lovely setting of Blow the Wind Southerly before the final sea shanty.
Throughout the evening, which was in support of the charity CRY (Cardiac Risk in the Young) in memory of a Cuddington girl, Freya Cox, who had died suddenly at the end of 2017 at the age of 19, the choir sang with precision and obvious enjoyment in four languages – plus da-ba-da-ba-da for Rossini – and provided a full church with much pleasure.